Ecological impact of a sapphire cover on a typical Swiss mechanical watch
Presentation of Frédéric Falise at the International Congress of Chronometry 2022 (in french).
Sapphire is an essential component of modern watches because of its exceptional hardness. However, it also makes its processing very energy-intensive. In addition, only about one third of the volume of crystal produced is transformed into final parts. This year-long study reveals that the sapphire cover accounts for up to 88% of the total energy and CO2 of watch manufacturing. Frédéric Falise of Scientific Visual presents the results of the study and solutions for the watch industry to reduce its environmental footprint.
Media contact: media@scientificvisual.ch
---
Taking guesswork out of crystal production
Scientific Visual offers quality control scanners that visualise volume defects, such as bubbles, cracks and cloudiness, in raw crystals.
They identify imperfections in pre- and post- polished sapphire, ruby, glass, fluorites, SiC and multitude of semiconductor crystals.
Our scanners ensure that only the best quality material enters the costly processing stream. The quality grades are adaptable to customers' needs.
Scientific Visual services three key markets: watch, semiconductor and smartphone manufacturers.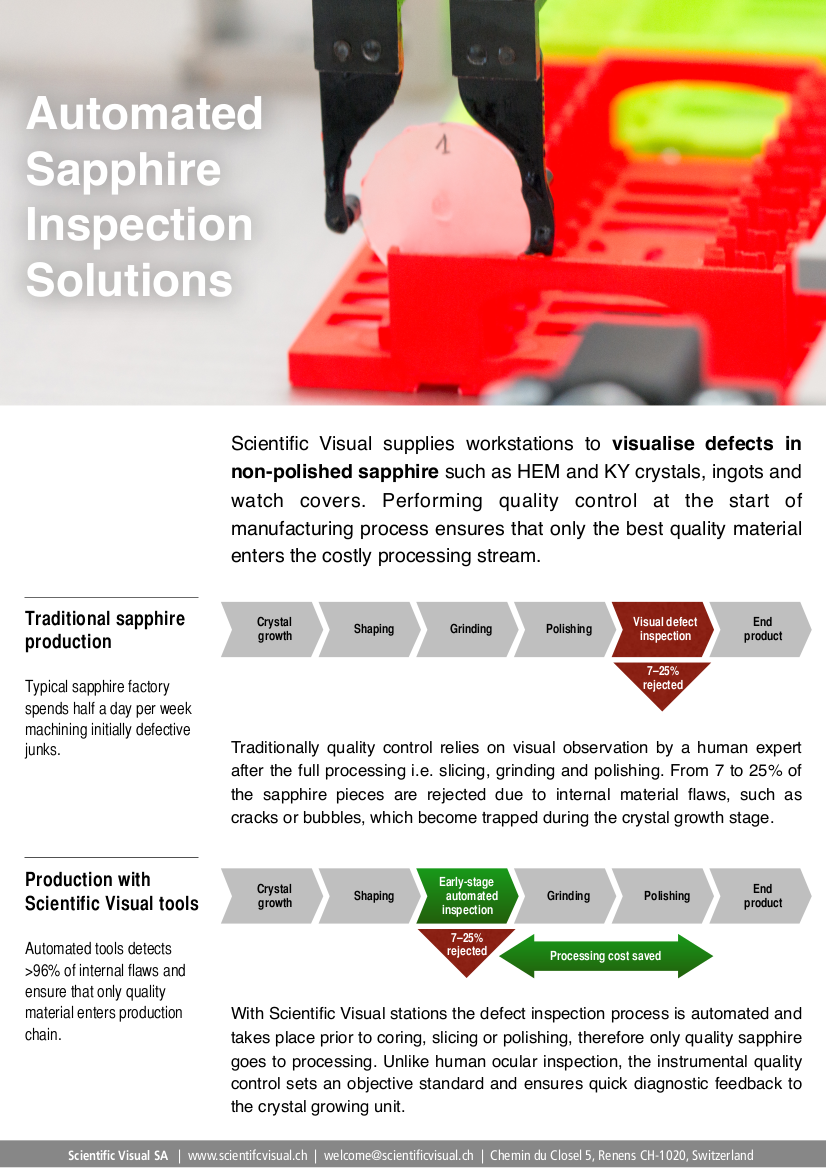 | | |
| --- | --- |
| | Download the brochure "SapphiroScan™ for the watch industry" |
Sapphire crystal inspection – 
Key steps in 1 minute
Walk through the digital metrology of a 90 kg sapphire boule. From capturing 3D crystal geometry to detecting defects, positioning cores and wafers, and creating coring plans. Note the new feature in our scanners – capturing the texture of the crystal skin.
Scientific Visual published a case study: tracking sapphire defects across micro-LED production chain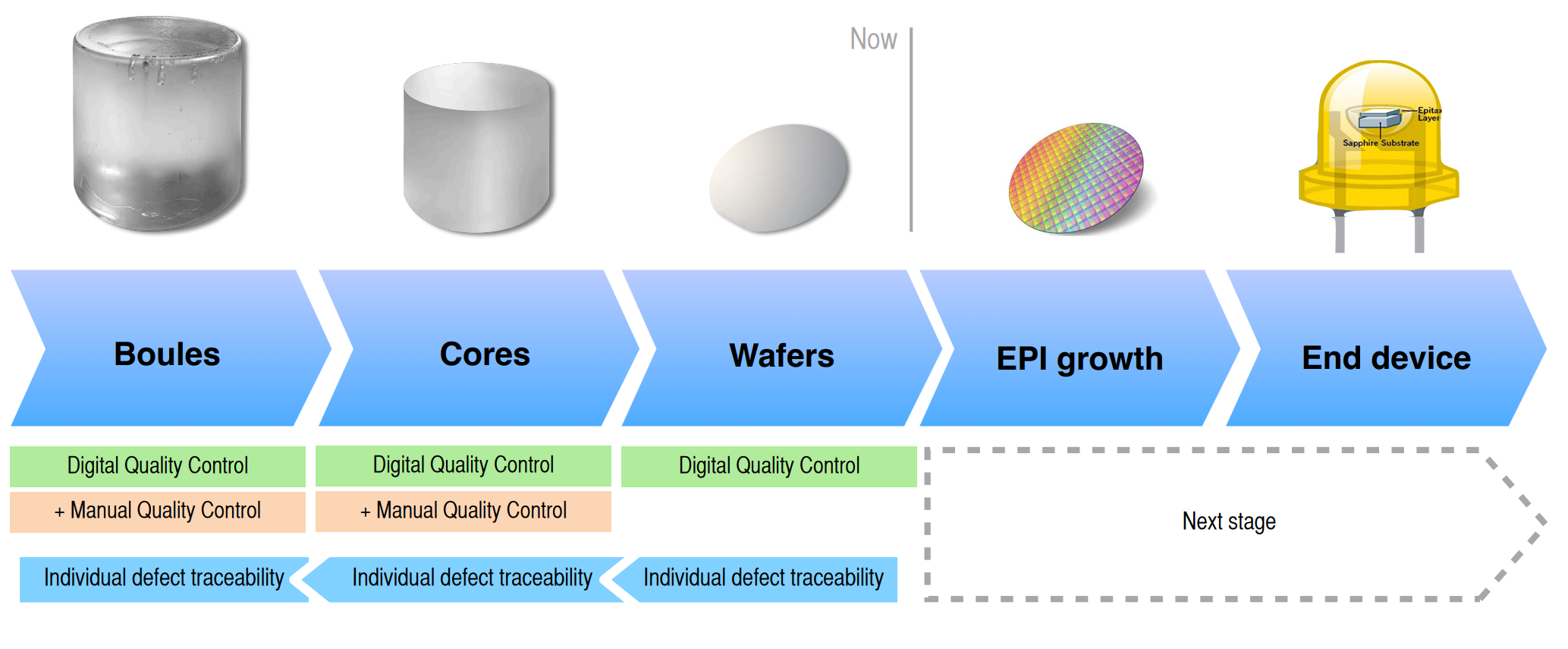 What if you could see internal flaws in sapphire crystal before processing it?
First automated quality control of a 260 kg Kyropolous sapphire crystal. Scientific Visual successfully detected defects in one of the largest sapphire crystals in the world. It enables to optimise coring and to maximise the amount of quality material harvested from the crystal. View press-release
(link)
.
This movie recorded with CarrotScan™ shows defects in a raw sapphire crystal grown by Verneuil method. Scene switches from Skin visualization to Inside view of defects. Colour stands for sapphire defect density: from deep blue (non-defective material) to deep red (highest defectiveness).
Currently checking for defects in sapphire watch covers and wafers is done after full processing and polishing has been completed.
Today 15-20% of sapphire covers and wafers are rejected after being processed and polished to transparency due to internal flaws that were initially there.
Think about it.
It means that a typical sapphire factory wastes at least 1 day per week polishing discards!
Our SapphiroScan™ control system detects flaws in non-processed watch covers so that only high-quality items could enter the value chain. Providing ROI in 6-18 months, the scanner not only improves quality and reduces production costs, but also accumulates defect statistics for the growth process optimisation.  
For Kyropolous and HEM crystal growers SapphiroScope™ automated station offers a fast, highly cost-effective alternative to manual quality control.
Unlike human inspection, all Scientific Visual scanners can be calibrated to perform objectively at a customer  standards so ensuring quick, accurate diagnostic feedback during and after production.